Career Options for Veterinarians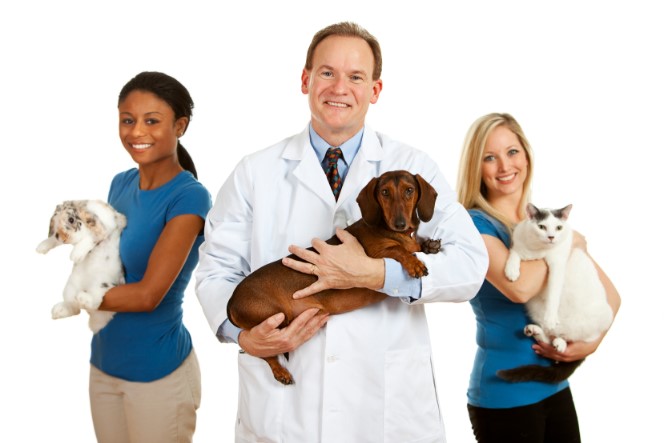 By Dr. Bethany Hsia, Co-founder of CodaPet, which recently launched in Seattle, WA;  Irvine, CA; Kansas City, MO; Fort Lauderdale, FL;  Columbus, OH; 
When people hear that I am a veterinarian they usually picture me at an animal hospital treating dogs and cats during regular business hours. However, they would be wrong! Veterinary medicine is a diverse field and offers a wide variety of career paths. Veterinarians can choose to focus on serving certain species such as dogs and cats, equine, exotics (birds and pocket pets), farm animal medicine, zoo medicine, etc. Veterinarians can also specialize in certain areas such as oncology, dermatology, emergency medicine, research, public health, or academia, to name a few.
Small animal general practice is one of the most common career paths for veterinarians. General practitioners focus on preventative medicine as well as the diagnosis and treatment of illnesses or injuries in pets such as dogs and cats. They also perform surgeries and offer advice on nutrition and behavior. According to the Bureau of Labor Statistics (BLS), the median annual wage for veterinarians was $93,830 as of May 2020. Veterinarians who work in private practice may also have the opportunity to become partners or owners of their own clinics.
Another option for veterinarians is to work in academia. Most often, these doctors teach veterinary students and conduct research. They may also provide clinical services to patients of  the university's veterinary hospital or clinic. Other academic positions exist in colleges with veterinary technician programs. According to the BLS, the median annual wage for postsecondary teachers was $80,790 as of May 2020.
Veterinarians can also have a career in research. In this setting, veterinarians may conduct studies focusing on animal health and diseases or may oversee the health and well-being of laboratory animals. Research veterinarians may work for government agencies such as the National Institutes of Health (NIH), private companies such as pharmaceutical manufacturers or academic institutions. According to the BLS, the median annual wage for medical scientists was $88,790 as of May 2020.
Veterinarians who specialize in specific areas of medicine may earn more upon receiving their additional certification. For example, veterinary specialists such as dermatologists, oncologists, and neurologists may earn significantly higher salaries than general practitioners.  In addition to salary, full-time veterinarians may receive other forms of compensation such as health insurance, continuing education funds, retirement benefits, and paid time off. Some employers may also offer bonuses or profit-sharing plans.
In addition to these traditional career paths, there are other options available for veterinarians. For example, some veterinarians work for zoos or aquariums, where they provide medical care to wild animals in captivity. Others work for government agencies such as the U.S. Department of Agriculture (USDA), where they inspect livestock and ensure that food safety regulations are being followed. Army veterinarians may teach cadets or treat military service animals and pets of military families. Shelters employ veterinarians to keep pets healthy and ready for adoption. 
Increasingly, veterinarians are finding ways to practice on flexible schedules with locum, remote, or mobile work. These positions can be full-time or part-time giving more flexibility and opportunity for finding a healthy work-life balance.
Relief work is a great option for veterinarians who want flexibility in where they work. This type of practice involves filling in for other veterinarians when they are on leave or otherwise unable to work.. Relief veterinarians can serve private practices, shelters, and emergency clinics, often establishing ongoing relationships with more than one hospital.
Telemedicine consultations have become increasingly popular in recent years, allowing veterinarians to provide medical advice and recommend treatment remotely. Regulations permitting telemedicine and tele-advice are determined on a state by state basis. This type of work is an attractive option for those who wish to practice from home or other remote location.
Another remote option popular among veterinarians is medical writing. Medical writers create content that communicates scientific, technical or clinical information. These publications may be informative, educational, or promotional depending on the client and the audience.
Being a mobile veterinarian involves traveling to the pet to provide care. Mobile veterinarians can operate a full service practice or offer speciality care. One example of specialty mobile care is that of an in-home pet euthanasia veterinarian; they are focused on providing end of life care for pets at the pet owner's home. This job is flexible and often pays $150 to $200 per hour.
Almost anywhere you find animals you can find veterinarians. Whether they choose to work in private practice, or another setting, full-time or part-time, veterinarians play an important role in ensuring the health and well-being of animals and the public.